Timmy Mallett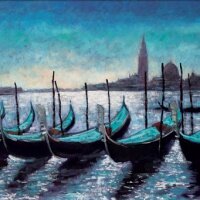 timmy mallett's award winning Impressionist scenes are drawn from his travels around the uk and across the world. timmy is inspired by sunshine and shadow, the changing seasons and the magic of the moment! his paintings glow with warmth, light and colour. not surprising when the man known to millions is such a colourful and enthusiastic individual.... more
timmy is a much loved tv personality, entertainer and artist. he started out winning awards in radio and on breakfast tv, 'wacaday' and 'mallett's mallet' proved an enduring favourite. timmy met andrew lloyd webber (a big collector of pre-raphaelite art) and together they had a worldwide hit with 'Itsy bitsy teeny weeny yellow polka dot bikini'. he's been seen on itv's 'i'm a celebrity get me out of here' and tours regularly being thoroughly entertaining on stage.
at warwick university he studied history and history of art and a paint brush has never been far from his reach. indeed mallett's palette is as much a part of him as mallett's mallet.
timmy is recognised as an artist worldwide and his work is widely collected. timmy's charitable street art includes a life size gorilla in bristol, the remembrance day piano in preston and currently the ring A Royal phone box at windsor castle. he has painted many famous faces including lorraine kelly, sir clive woodward, jim rosenthal and wendy craig.