Jack Frame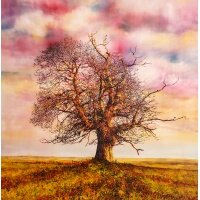 Originally from Kent and graduating from the Kent Institute of Art and Design he continued his studies at the prestigious Glasgow School of Art. After a very successful Degree show where he was awarded the Landscape Drawing and Standard Life prize. From 2007 until June 2010 he held the Artist in Residence position at Lomond School in Helensburgh. He was a prize winner at the prestigious JoLomo Awards in 2009. He is currently living in Glasgow and painting full time in his Bath Street studio, where he featured in the BBC documentary 'The Glasgow Boys' displaying his passion for painting Landscape from observation. He is best known for his portraits of Tree's. His work has been reviewed widely, including the Scotsman, Herald –Arts Supplement, Homes and Interiors and Calidoniart, Jan Patience review below being a good example of all that is said about him.... more
Review by Jan Patience
A sell-out star at Glasgow School of Art's degree show in 2007, Jack Frame has been building steadily on this early promise, working through his fascination with trees and the natural world as a metaphor for the bigger picture.
Looking at his recent paintings of trees, often delicately rendered on large sheets of Perspex or glass, there seems to be so much more to them, than mere depiction of a landscape. Like Turner, he is always chasing the ether of atmosphere and the trees themselves appear to take on human qualities. It's as though, through the vehicle of the natural world, he is searching to place humans in context; to understand our place in an increasingly sterile global landscape.
Still in his mid-20s, Frame, who was short listed for the prestigious JoLomo Award for Landscape Painting in 2009, is hotly tipped to become one of Scotland's most collectable contemporary artists, despite the fact that he resorts to the wholly unfashionable medium of what he calls 'pictures in rectangles' to unleash his creative vision on the world.
Frame describes himself as a magpie in his approach to his work, but he is also a romantic in the way he engages his artistic sensibility - always striving to strip away the heaviness of what lies before him, be it in landscape or a figurative work.
What he has produced so far is quite special, but keep an eye on this young man as he has an eye which joins forces with his fingers to conjure up triumphantly lyrical work
Jan Patience, Arts writer, August 2009