Jack Vettriano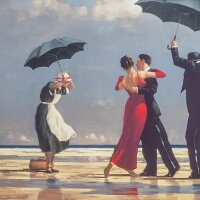 jack vettriano was born in fife in 1951. he grew up in the industrial seaside town of methil and left school at 16 to become an apprentice mining engineer. he took up painting as a hobby in his twenties and his earliest images were copies or pastiches of impressionist paintings.... more
jack's breakthrough year was 1988, when he felt ready to display his paintings in public and submitted two canvases for the royal scottish academy annual show. both paintings sold on the first day and he was approached by several galleries who wanted to sell his other work. a string of successful exhibitions followed in edinburgh, london, hong kong, johannesburg and new york.
jack is the most successful and popular Scottish artist in history. recognition has come not only through astonishing sales of his work, but in a variety of other ways too; he has been awarded an obe, holds an honorary degree from the university of st andrew's, and his private collectors range from his compatriot robbie coltrane to hollywood superstar jack nicholson.
his nostalgic subject matter, enigmatic narrative detail, and unmistakable use of colour combine to give the viewer the strange but pleasurable sensation of having stepped into the opening scene of a film noir.