Ken Hammond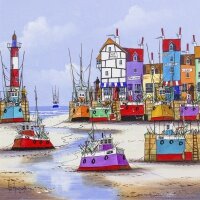 ken has been a self taught professional artist with a love of boats and the sea for nearly forty years. he made a name for himself in the art world as a traditional artist and has sold work in many galleries throughout the uk.... more
while developing his style of traditional marine art he spent his time crewing various sailing vessels, including the sir winston churchill (a top sail schooner) and thames barges. these experiences helped with his understanding of the rigging and the working of old sailing ships.
he works in various mediums including watercolour, oil and acrylic, and likes to experiment with new techniques and materials such as painting on glass, using metallic leaf and trilogy box canvases.
ken continues to paint traditional works, and in more recent years has began to develop a more contemporary style which has in turn given him a much wider following.