L Ratcliffe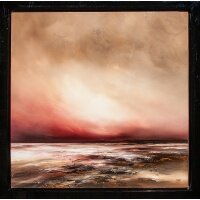 lynn ratcliffe's epic sunsets and panoramic landscapes are inspired by her passion for the shifting colours of england's vast northern skies. while exploring the effects of light on land, sky and water, she aims to capture a moment in time, a unique and therefore unrepeat able experience centring on the power of nature.... more
each atmospheric semi-abstract image is created with an intense palette that illuminates the entire canvas, becoming a swirling vortex of energy that seems to be bathed in dazzling sunlight.
lynn uses subtle blending and glazes to add tone and create a strong sense of drama, and the impact is further enhanced by her subtle use of relief textures and gloss finish.
this reflective surface means that as the light changes so the image changes with it; this creates a sense of constant movement, rendering each composition a uniquely interactive visual experience for the viewer
lynn lives in a beautiful rural setting close to the coast, and the beauty of her surroundings has always informed her work. she is the mother of chris and steve rocks, two of britain's most highly acclaimed artists in their own right.