Lhouette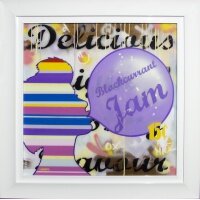 after visiting 21 countries in the space of just 5 years, contemporary artist, lhouette
returned to the uk having, in his own words, experienced 'adequate exposure'. referring to the world and its global family, yet either way lhouette had absorbed all the sights, sounds, smells and ever-diverse cultures that he required to launch his art career funded by the royal navy; which he'd joined immediately on leaving secondary education.... more
born and raised in luton, lhouette had shown much promise during his early school years within the artistic arena, lhouette has recently updated his cv by adding a post graduate diploma from the birkbeck london school of arts. impressively lhouette's acceptance onto the course was based solely on his creative endeavours and experiences hitherto and supported by a portfolio of circumstantial evidence, whereas typically people have to have graduated with a decent degree to gain access to these courses.
lhouette hasn't wasted any time establishing himself as a creative force to be reckoned with, having in the space of a mere 4 years formed and founded a high street-situated art studio and exhibiting space for potential creative sorts to both express and promote their artistic wares, whilst showcasing his own talents at every given opportunity alongside his fellow collective.
lhouette's urban touch lends as much to street art as it does to pop art, deploying a specific stencilling technique which characterises much of his work, flooding the outlines with visually arresting coloured patterns, symbols, images and text to instil a sense of urgency and a call to arms mentality on those who pore over it.
lhouette's decidedly mixed media work starts from a design platform and is then executed through the use of stencils, acrylic and aerosol paints on rough ply canvas, and then sealed in courtesy of a clear lacquer resin finish.