Paresh Nrishinga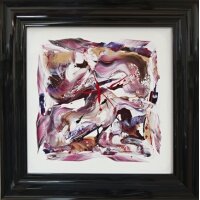 Paresh Nrshinga has been a full time contemporary artist for the past ten years, in which time his portfolio of work has exceeded the expectations of the art media. the abstract paintings are evolving into a blast of colour and emotion. the work has moved into the realm of the sublime and all who see it instantly fall in love with it. through nrshinga's passion for music he has developed a unique flair for transferring and transforming the energy of sound onto the canvas. the colour and movement of the work create vibrant visual effects second to no other artist. since an early age nrshinga has been influenced by the colours of an often vibrant world. he draws the energies from the spirituality and extensive travels throughout africa, india and europe which have a profound effect on the artist. artists such as pollock, klimt and warhol have helped mould Nrshinga's work into the flirtation with abstract expressionism that it is today.... more
'abstract painting gives me the freedom to break all the rules and conform at the same time on the canvas. my painting process is natural and a direct reflection of what is going on internally both emotionally and letting the subconscious take over... "not thinking but feeling!". it is no longer a mechanical but a subtle art form. the way i want to paint is for the viewer to wonder how it came about.'
Nrshinga has been the top selling artist in some of the best galleries around the uk, including biscuit factory gallery in newcastle, one of the largest gallery spaces in europe, gallery rouge in st albans, art house gallery in north london and also has exhibited in the past in art at five gallery in brighton. nrshinga is often showcased in solo and group shows in various galleries in the uk and around the world.
The owner of "gallery rouge", kuldip chohan, who represented nrshinga in a large solo show in april 2008 at his gallery, comments: 'in paresh's work you can feel the movement, the motion and fluidity of his strokes. the style is unmistakable: there is purpose, structure and balance in all he produces. the diversity of his compositions demonstrates that paresh is steadfast on his journey of discovery, and i look forward to watching his work evolve to the next level.'
Nrshinga's paintings are enormously popular and continue to offer a unique experience of spirituality and mysticism.