Remi Labarre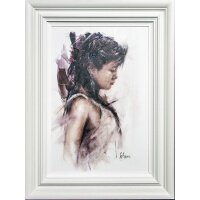 In 1977, in Thetford Mines, Remi LaBarre gets a first glance of the world. In his childhoold, he draws, often, on paperboards and paper… One day, a friend who paints suggests testing this medium. He thus gets some brushes, a few colors and his first painting will dry throughout the days of September 1994.... more
Since then, several paintings, whether portraits or still life, all tales told. These canvases reflect the lighting of hushed environments pointing to the sensitivity of his influences, John Singer Sargent,
Richard Schmid, Fabian Perez and Jack Vettriano.
Rémi LaBarre has participated in numerous group and solo exhibitions; has won different prizes and has received an important press coverage. Mr LaBarre's work is getting international recognition and is now part of both private and public collections.
One of the finest artistic satisfactions for this young man is knowing that Leonard Cohen and his entourage own and appreciate his portrait of this great songwriter and singer.
His inspiration comes from these evenings of shared looks between a man and a woman, from the drink that perhaps changed everything and from the musician who noticed it all from the stage…