Ruby Keller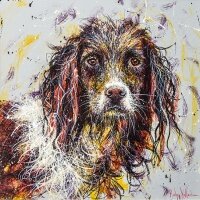 Keller's mixed media paintings show a vibrant yet subtle use of colour, the way it captures the world around him on canvas appears almost spiritual.... more
Ruby keller is in fact the pseudonym for highly regarded artist, peter workwick. peter has always challenged different styles and techniques, and painting under ruby keller give him this ability to explore the art boundaries.
Ruby keller started life in a small town in lancashire, following three years studying art and design, he then travelled around europe, setting in paris for three years. having recently returned to england he now lives and works in a studio in cumbria.
He believes in constant experimentation because, he says, "an artist's work has to stay fresh, so he constantly needs new ideas. evolution happens naturally as you strive to improve." he delights in working with fabric textures and regularly changes his subject matter to set himself new challenges, to enhance his creativity and hone his skills in style, techniques and interpretation.