Frank Mosley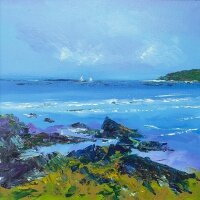 Frank Mosley was born in Glasgow, Scotland. He studied at the Glasgow College of Design and thereafter spent nearly 30 years in the UK advertising industry.... more
an accomplished musician (having played drums alongside some of the great names of the 60's 'beat boom'), he is a published contributor to several advertising text-books and writer of numerous award winning press, radio and television campaigns.
for some years a 'hobby' painter, his career as an exhibiting artist commenced in 1995 and his works are regularly on view throughout scotland and can be found hanging in collections in the uk and france.
since moving permanently to france in 2002 he has continued to paint his native scotland, but his work now shows increasing inspiration drawn from the perigordine landscape with a new body of paintings in progress. working exclusively in acrylics his style is loose, vibrant and colourful.