Helios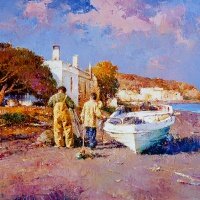 helios was born in alcoy in 1958 where he studied at the school of fine arts and crafts.... more
each of his pieces demonstrate his deep passion for landscapes and nature. his canvases show a great realism involving a poetic atmosphere all performed with remarkable strength.
he loves to combine clear colour brushstrokes and surfaces with concise lines to depict figures and attract your attention to the desired point.
he is considered one of the best artists of his style and his name even appears in the encylopaedia of valencia.