James Stockton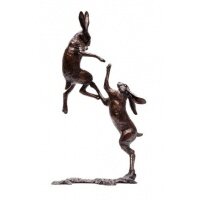 Born and brought up in london, james became interested in wildlife through family holidays spent on his grandparents' farm in north wales. his father, himself a talented amateur artist, took him out for long walks through the beautiful local landscape with a sketchbook, and encouraged him to draw the plants and animals they saw on their travels.... more
james was a child when he had his first sighting of two boxing hares in anglesey and he was entranced by their 'mad march' behaviour. he cites this experience as the beginning of a lifelong interest in animal behaviour, and he planned to study ecology and wildlife conservation at university. he achieved three science 'a' levels and a fourth in art, but at the last minute had a major change of heart and decided to apply to study fine art instead. james was lucky enough to have an award-winning sculptor teaching in his department. she ran a specialist course and james became convinced that this was where his future lay. at the leavers' exhibition he was awarded first prize for a stunning bronze of a moon gazing hare which he went on to sell to an influential local collector.
encouraged by the reaction he received to his work, james took the bold step of setting up a studio back in north wales. he worked night and day on his technique, gradually beginning to build a reputation, first locally then further afield, and his work began to sell for commanding prices both from his own studio and in galleries across the country.
james now lives on the edge of dartmoor with his wife and three sons. his highly acclaimed wildlife sculptures are widely collected in europe and the usa.