Keith Drury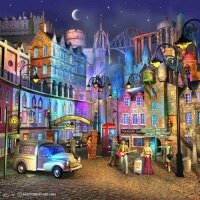 Keith Drury's 'When I Dream' art series has become one of the top selling range of artworks for many of the UK's largest city galleries. As an art style it is unquestionably quirky and contemporary in its interpretation of the urban landscape and yet it refuses to be compromised, each artwork being created with meticulous attention to detail. Each print is a top quality Giclée print on acid free paper - each one printed at the studio itself and not outsourced. ... more
Keith's art has received a public national commission and is on permanent display to the public in Belfast City Hall. Commercially his art has found its way into every world continent, appeared in advertising campaigns, Jigsaws and luxury chocolate tins. His art has been used by the rich and famous but is created simply to be enjoyed and to be a talking point on anyone's wall. Perhaps we could summarise Keith's art by amending Oscar Wilde's famous expression 'Art is too important to be taken seriously!'
Keith can not remember a time when he did not draw or make 'stuff' but his introduction into the more serious art world began when the owner of a prestigious gallery took Keith under his wing lending him works of international artists to take home and copy. On return the gallery owner would assess Keith's style and then test him with something completely different. Now Keith after years of trying new things and mediums has developed his own unique style.
Keith has been approached by a number of the UK's largest art publishers but has resolved to remain completely independent as an artist although he has partnered with several art publishers where his independence has not been compromised.
All of Keith's work is created at Woodstone Studios located in a small forest in the heart of County Down, UK.