Ken Orton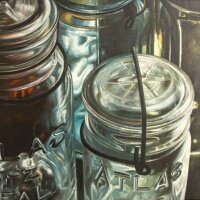 ken orton has dedicated his life to painting. his childhood was spent drawing the urban, industrial surroundings of birmingham, england. at the birmingham and then manchester colleges of art he studied art education and after six years teaching in england accepted an offer to head the arts program at the joan miro centro de arte of the baleares international school in mallorca, spain.... more
later, after he had moved to america in 1999, he discovered a treasure trove of antique mason jars and bottles in the root cellar of his home and was captivated by their lens-like qualities, raised lettering and inherent challenges of perspective as light passed through them to the eye. In conversation ken often reverts to his professorial instincts, as demonstrated below in a self-assessment of his work:
"the direction of my painting has always had an academic approach. i sought a subject that in itself seemed to have little value, hoping that the paint alone would attack the viewer's senses and impart its own worth. i often think of the process of painting and indeed the finished artwork itself, in musical terms: rhythm, texture, coloration and tonal dynamics.
in painting glass one is attempting to render a surface that is composed entirely of either refracted of reflected light. these subject itself is constantly changing as each jar interacts with objects around it. the raised lettering on the jars and bottles have, by their prismatic nature, an ability to capture tone and color from one side of the composition and pull it, in microcosm, to the other. the rhythmic nature of this lettering provides a musical stave onto which the decaying light, the tonal crescendos scribe a melody. it is an endless path of discovery.
i use my own carefully composed photographs as a reference and each piece has a precisely-painted, clear point of focus. i do not consider myself a photo-realist. i am equally interested in the intentionally blurred fields of color in my compositions, areas that allow me to practice a looser expressionistic technique, creating illusionary poems rather than an inventory of the seen objects and along the way forming—i believe—powerful and engaging works of art. i still get enormous pleasure from watching people move towards one of my canvases. at that moment when the image switches from being photographic to being very human and painterly, there is often an uttered wow!......i love them wows."