Krzysztof Hendzel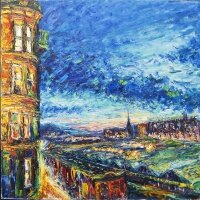 Born in poland and now living in the scottish borders, krzysztof is passionate about his painting, and he has been influenced by many of the great masters of the past. there are not many modern day artists that paint with such a brave colour pallette.... more
Words from the artist: "what is painting? my painting. this is nothing like trying to stop reality in a specific way and give it a form of "life. it's not about trying to do this ideology, and discuss how it is affected by the consequences for others, since it is in my control and each subsequent image is only a vector specific for each emotion with whom the casual observer must face".
A number of canvases and a series of individual paintings are currently held in private collections in different parts of the world (including the polish embassy in vienna).
These are my own part of an extensive art collection of paintings depicting polish landscapes, still life's and painting with borderline abstract symbolism, which, who knows, may become a leading trend. but regardless of the circumstances and what happens, landscapes remain an indissoluble part of my painting, giving it the characteristics of the broader "freedom" and deep breathing. continuing the series of scottish landscapes as well as the preliminary work on a series of abstract paintings from the series "promised land", "atlantis," "door" and "spiritual angels" inclined me to the next level. in preparation and drafts of my own projects, there are further images from the series "journeys" and original woodwork and sculptures.