Todd White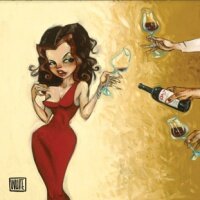 todd white's stylish and distinctive figurative artwork has won him an international reputation that keeps on growing. his paintings captivate people, often invoking laughter and always demanding repeated viewings. by revealing his subjects' innermost feelings, he creates timeless scenes of attraction and intimacy. beneath the exaggerated features and textured skin of his characters there is a truth that we can all recognise - both theirs and ours.... more
todd is a compulsive observer of detail, always studying and absorbing figures, faces and features. he spends his life people-watching - scribbling down sketches whatever the situation (often on napkins or even tablecloths) to record an idea for his next work. while his subjects come from everyday life, his perspective is so unusual that he alters the way we perceive people and the roles we play around each other. he studies body language, using its nuances to capture the subtleties of what we show and what we hide.
born in 1969 in texas, he todd relocated to hollywood in his twenties and worked in animation, developing characters at some of the most renowned production studios in the country. he was even part of the lead team for the international hit cartoon series sponge bob square pants. during this period todd started to forge his artistic style by experimenting with colours and concepts. he eventually arrived at the working method that now guides him through every piece. he always names his pieces first, visualises faces and personalities, then develops each person's story. in fact, he doesn't paint at all until he can conceptually see that story in his head. and he always tells it as directly as possible - what isn't necessary to the story does not go on the canvas.
hands are a focal point as he has always been impressed by how powerfully and expressively tiny gestures can amplify an actor's performance. ''everyone's hands are full of personality,"' says todd, "they reflect the subject's state of mind almost as much as facial expressions."
todd was chosen from hundreds of artists as the official artist of the grammy® awards in 2007, the world's most prestigious music event. in 2009, he was invited by warner bros. to contribute to a major design exhibition celebrating the 70th anniversary of the wizard of oz. todd collaborated with coca cola in 2010 to produce limited edition bottles and cans. his unique box signature appears right on the product, which is the first time coca-cola has given credit to a fine artist in this manner.
following a string of record-breaking shows in the uk, todd returned to the us to even greater acclaim, and has become one of the world's most collectable and successful living artists.