Akiyama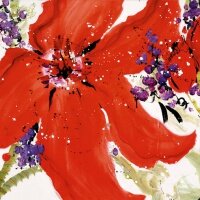 painting in a variety of media, danielle creates luminous floral images that vibrate with life, energy and colour, whether through a riotous party of flowers or a single magnificent blossom. she has received numerous awards for her paintings which she describes as"sanctuaries for the soul."... more
danielle is a toronto-based canadian artist who has been painting for 30 years. having studied art therapy, she worked with people of all ages helping them to achieve personal change through the use and enjoyment of art. since leaving her work as a therapist danielle has dedicated herself to a life of painting, but her understanding of psychology has had a profound influence on her inspirational images. danielle's style is loose and impressionistic, however she has always believed in the importance of each and every brush stroke. in order to gain a greater understanding and technical skill she studied sumi-e,
japanese brush painting.
her distinctive fusion of eastern and western artistry has led to her works being highly prized by art collectors from both sides of the pacific. danielle was recently named as the president's 1st choice at the florence biennale, proving once again the international appeal of her exquisite florals.