Amylee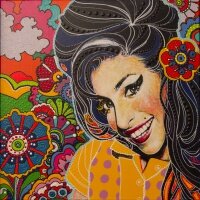 One glance at the Parisian artist Amylee's fashion paintings, and you are sure to crack a smile. She uses enough color to paint a 3D rainbow.
Born in Nîmes, France in 1978, Amylee began her career as an artist by studying studio art in the south of France. She made her way to Paris where, for several years, she put her skills to work in the fashion and design industry.
This experience fueled her ambition and her passion to produce visually stunning works, and it was at this time that she became obsessed with colors and fashion. In 2008, Amylee began focusing all her free time on displaying and selling paintings in Parisian galleries. She is passionate about keeping up with trends in art, design, and fashion and adores connecting with people.
Known for her captivating portraits, Amylee mixes different media with acrylic paint to create brightly colored portraits of women inspired by fashion shows of a psychedelic bent. Pop colors, glam touches, flowers, and happiness are the keywords to describe Amylee's artwork. She loves telling stories about women.
Her overflowing energy and her desire to share her passion with others led her to begin blogging in 2006. Amylee nurtures her presence on the web and on social media, fully embracing the opportunity stay in conversation with her audience.
Her paintings have been exhibited in several galleries and art fairs in Amsterdam, Brussels, and New York and now exclusively to Breeze in Scotland!